About the Bracelets
The We Are Linked Not Ranked bracelets were created by Gloria Steinem to benefit the work of Feminist.com, a thriving online community and hub of feminist voices.
To honor Gloria Steinem, her partnership on these bracelets and her lifelong work to create a more equal world, 25% of proceeds will be donated to Gloria's Foundation. 
The bracelets were designed in partnership with Yoko Ono and the MaidenNation Imagine Project.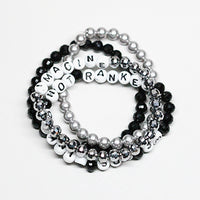 Gloria Steinem We Are Linked Not Ranked Bracelet
Bracelets are now available. Order yours today!
PURCHASE